🎄 Help Us Bring Christmas Joy to Our Artisans! 🎄
This holiday season, we're on a mission to brighten the lives of our 25 talented artisans by providing each of them with a bountiful food hamper. Your donation can make a real difference in ensuring they have a festive and abundant Christmas. Give the gift of warmth and joy this holiday season. 🌟
Visit our fundraising site for more details: https://donorbox.org/kibebechristmas2023
Thank you, from all of us at Kibébé!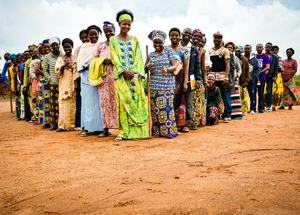 Products with a Purpose
Meet Kibébé - the African lifestyle brand economically empowering refugees and Malawians alike. Our skilled artisans transform colourful chitenje (traditional fabric used throughout East Africa) to create a curated collection of handcrafts that come with stories of resilience and opportunity. 
Harnessing the power of conscious consumerism, Kibébé not only directly provides jobs but donates all its profits to There is Hope, a partnered Malawian non-profit providing vocational training and educational scholarships to the people living in and around Dzaleka Refugee Camp, Malawi.
Our Story
Artisan Stories
---
For many, being forced to leave one's home means having their previous life destroyed. However, for some, it means starting a new life. Joyce's story is the latter.